I've returned to LA to find that someone ordered up some extraordinary weather while I was gone. This feels like autumn–crystalline skies, cool, dry breezes, vivid colors. I love it. My brother and I survived our weekend in the Sierra. In fact, it was because of weather that we got back a day early. I'll be prepping pics all morning for posting on my other site, but here are a couple to illustrate the extremes of temperature we survived in the past three days.
Click the images to see larger version: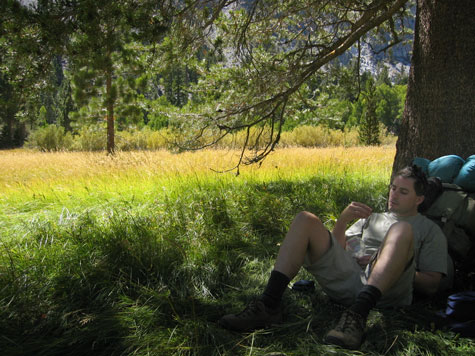 Keir relaxes in an idyllic meadow, taking a break from the ascent towards Sawmill Pass.
That's how the trip began, in warmth and light and comfort. Over the next twenty-four hours, a cold front slammed through the High Sierra. We were forced to negotiate our way over one of the highest and least forgiving of the Sierra passes in the midst of an intense snowstorm:

This is Keir two days later–the harrowing descent from Taboose Pass.
I'll publish more as I get my bearings and reorganize after the trip.