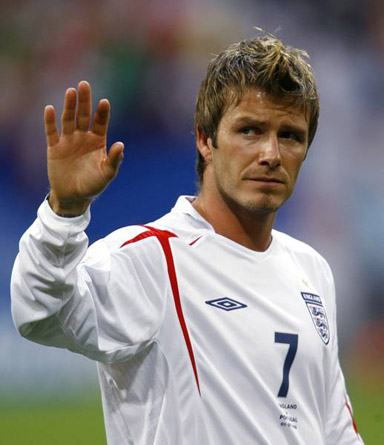 Say hello to David, Hollywood. For the past couple days, there hasn't been a radio program on KCRW and KPCC that hasn't managed to work in a segment about the impending arrival of wonder kids, David and Victoria Beckham, except maybe Good Food, but then I haven't heard the latest edition yet.
What does this mean for our quiet little 'burb? No idea. The Galaxy get a much-needed shot in the arm, that's for sure. But let's hope it's worth it for them. For his trouble, Beckham will pull down about a million dollars per week for the next five years. That's just incredible. A million dollars. Per week. I mean, that's even more than I get at Amoeba.
But I suspect life for Beckham in Los Angeles will be less of this.
…and more of this.
All cynicism aside, I love that he's coming. Americans are hopelessly backward when it comes to soccer. Our contention that soccer (football!) is a boring sport happens to be out of step with…well, the rest of the entire planet. But then Americans are notoriously xenophobic and something loved by billions of foreigners just can't be worth our while. Our own football is a boring reenactment of our arrival in the New World, a tedious exercise wherein two armies battle over a chewed-up swatch of earth. Even though I have no real expectation that Beckham will single-handedly bring light to countless middle-americans, it's enough to bring out the curious. And that could be interesting.