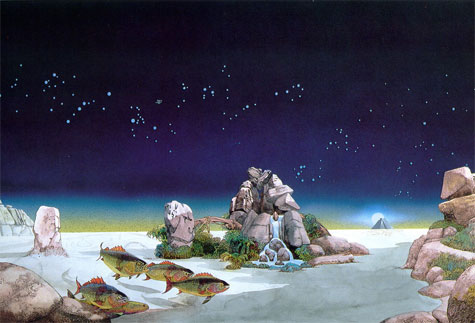 The other day I get my greedy little hands on a copy of the remastered, re-issued edition of Tales From Topographic Oceans by Yes. I've never heard it so clear and clean and gorgeous. It's been lovingly repackaged with some nifty liner notes and a fine wraparound sleeve of Roger Dean's famous artwork. Rhino, the company behind the reissue, even threw in a couple studio run-throughs of two of the tracks and restored a subtle intro to "The Revealing Science Of God." Very cool.
What really gets my attention is a photo included on the inner sleeve. It's the sort of thing I tend to gloss over with ease, but for some reason, this time, I take a closer look. It's a photograph of guitarist Steve Howe standing on a street beneath a billboard advertisement for the album. I scan it and take a closer look. Soon, I find myself drawn into the details.
Here's the photo:
First of all, it's easy to guess that the shot was taken in Los Angeles. There are three concert dates on the Billboard, all of them for March and all of them for SoCal locations.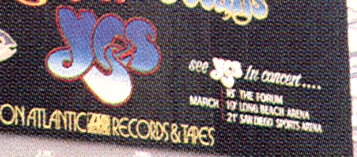 (Here's a larger version of the whole image if you want a better look.) The album was released on January 9th, 1974. I'm five years old and living in St. Louis at that time. The billboard indicates that the album is out already (on Atlantic Records & Tapes!) There's a subtext that suggests the shows haven't happened yet. So I'm guessing this is a February shot. Way in the background on the right (visible in the larger photograph) is another sign advertising the album Thunderbox by Humble Pie (this was a post Peter Frampton record and apparently not very successful; Stephen Thomas Erlewine stomps on it a little over at allmusic.com.)
Then there's the Horticultural Holiday. What the heck was that? A nursery? A web search is predictably vague. Many people consider an afternoon trimming forsythias a horticultural holiday. Then I find this page. Artist Lord Tim Hudson "creates The Horticultural Holiday on Sunset.. first up market vegetarian restaurant…"
So this is Sunset Boulevard. Proof is further offered by the tattoo parlor. It's a tough one. Part of the logo is obscured:
I Google "lyle tattoo" and hit the motherlode. It seems legendary tattoo artist Lyle Tuttle had a shop on Sunset Boulevard. Here's his website. I love that his logo is still the same, all these years later. According to this page, this shop was purchased in 1975 by Chicago tattoo artist, Dale Grande. It actually says "around 1975" but since this photo was taken early '74 it's probably safe to say it was still in the hands of Tuttle himself, although he apparently did most of his work in San Francisco. This page indicates Tuttle sold the joint in 1976:
Lyle did used to own The Sunset Strip Tattoo studio at the same time he had his main shop in San Francisco, he told me so himself. He also told me he sold The Sunset Strip Tattoo in 1976. He used it for private tattooing, it made famous people feel like they were getting special treatment, which meant he could charge more.
I even find a mention of Tuttle on the website of Pat Fish, whose name I remember hearing back in my Santa Barbara days. She says:
Once upon a time when I was just a kid I stumbled into Sunset Strip Tattoo and watched Lyle Tuttle doing a tattoo. He made it seem like the coolest thing I'd ever seen. Right then and there I put it on my list of possible ways I might want to make a living when I grew up. Fast forward many years and now I KNOW it is a great occupation, and Lyle is still the mythic creature, larger than life, whose career bridges the "bucket of blood era" and the modern jet-set world of conventions.
So where on Sunset was the photo taken? I want to say we're facing West, as indicated by the topography. But how far west? Is that building still there? Is there any remnant of the parlor itself? Does it still exist? Why am I getting so into this? I don't know.
One final trio of links for you:
The San Diego Sports Arena Show (naked women on stage with Yes??)
And I actually have that bootleg vinyl of the LB show in my posession.