I've relapsed a bit into illness. I don't think I'm gonna go through what's hitting Sara, where she picked up a cold, deflected it, and then had it swing back around and gather momentum and flatten her like a locomotive. But I did have to cancel a date with a very attractive woman tonight because of it. I'm a little tired of feeling rundown and slightly out of synch.
So I'm home now, prepared to sink into a bit of script work. Ripping some CD's as I type. The latest batch is, as usual, a varied bunch:
| | |
| --- | --- |
| The Dandy Warhols | Secret Machines |
| The Brak Album!! | The Donnas |
| Seb Fontaine | Flunk |
There's some progressive, some chilled out electronica, plenty of indie stuff, some straight up rock and, of course, Brak. How can I go wrong?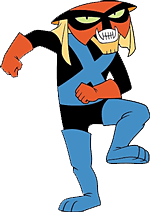 Really Cool Song: realaudio stream |