I think there's a Brink's truck out there, and it's having trouble finding my house.
Now that I've pretty much decompressed after the Sierra trip I find that I've much to do. I'm not going to put much stock in the continuation of my so-called job. In spite of his calling me on the way back from Owens Valley asking for help (the keyboard on his wife's computer stopped working) he remains as elusive as ever. He'll pay me. But getting him to do so is often like trying to catch a moth with the sharp end of a straight pin. And considerably less fun.
Since I'm an idiot, I've decided that what's going to save me is the writing. While recuperating in a motel room in Bishop after Sunday's snowstorm we watch some bad adaptation of 20,000 Leagues Under The Sea on television with richard Crenna and Ben Cross and it makes me mad. The script is terrible. I could have adapted rings around that story. I mean, ignoring the awkward cliche I just used, I can't believe that I'm not a working writer yet. Sure, I've sold stuff. I've optioned stuff. But I work at Amoeba by night and chase moths by day. Admirable pursuits, both, of course, but it's time to figure out what's holding up the Brinks truck and chase down some of these opportunities. My approach has always been, "Okay. New script done. Let's run this up the flagpole and see if the cat salutes it." That's no longer working. It is clear to me now what I need to do.
I need to round up more cats.
As I said, I'm an idiot.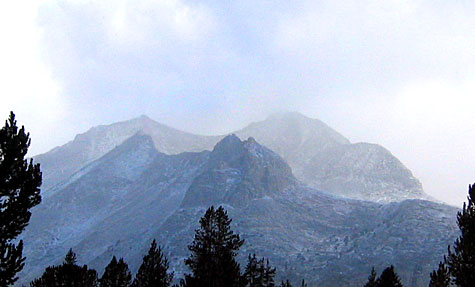 Cirque Crest north of Pinchot Pass, September 19, 2004