On January 27, 2002 I met John Sanford.
It is a cool Sunday, overcast and gloomy. I'd read his novel, The People From Heaven back when Andrew Davis was looking for something to develop by a Santa Barbara writer. The book, an experimental novel about a black woman named America coming to a hostile New England town, still resonates for me today.
I'm going to see him about Maggie: A Love Story, a little thing I picked up at Leon's Bookstore in San Luis Obispo. It's a lovely valentine to his wife Maguerite Roberts, who died in 1989. At one time, she was one of the highest paid screenwriters in Hollywood. The year she died was the year I moved to Santa Barbara. He wrote Maggie the year after her death, and when I read it I realize that their story would make a beautiful movie. Charlotte, my agent at the time, tracks him down and writes him a letter. She gets a positive response from him so I place a phone call. The conversation goes something like this:
"Is this Mr. Sanford?"
"Yes."
"My name is Will Keightley."
"Oh, I seem to remember hearing that name recently." I told him where he'd heard it and he asked, "What can I do for you?"
So I launched into a stammered summary about how I'd read The People From Heaven and just loved it and blah blah blah and then told him just why the hell I was on his phone line. "I'd love to try and turn Maggie: A Love Story into a movie."
So he suggested we meet at his place at 11:00 on Sunday. "I'm finished writing by then," he said, "I'm still writing, you know."
"I know. You just finished a new novel."
He laughed. "I'm 98 years old. I still have a few weeks left. So I'm still writing."
Now I'm finally sitting in his living room. He's a small man, with a shock of gray hair and incredibly sharp eyes. He admits right off the bat that he never imagined someone would want to turn their story into a movie. I tell him that I think it's wonderfully cinematic, and the love that he shared with Maggie so profound that I thought it just begged to be a movie.
So he shrugs and then proceeds to tell me, over the next three hours, just why he was so in love with Miss Maggie.
He likes the idea of a movie, he admits at last, though necessary financial considerations would have to be addressed before I could work on something like that. I understand perfectly, and I tell him that some of my other projects threaten to give me a financial boost. I promise to get in touch when that happens and we part ways.
Of course, I'm still coming around to that financial thing. I'm under the gun, in a way. He was 98 when I met him. He must be a hundred and one now. Curious about recent news about Sanford I Google him this morning. Of course, this is what I get.
He died two years ago. I'm surprised. I knew he wasn't a popular writer, depsite all the critical acclaim he received, but I thought I'd have heard about it in my travels. This depresses me.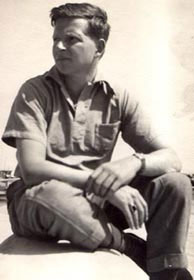 But I so want to write that story…