Ryan's really good at recognizing faces. One night we're working at Rocket Video when an actor who was in the "Hyena" episode of Buffy The Vampire Slayer walks in. Immediately, Ryan calls him out and tells him that he's a fan of his work. I don't know that Ryan actually knows any of his other work, but for Ryan, Buffy is enough. Ryan's terrible with names, but he's a wizard with faces.
So when we're standing in the crowd at The Echo watching Maria Taylor slink through an excellent set, I shouldn't be surprised when he says to me, "Hey, isn't that Conor Oberst over there?" He should know. He's a huge fan of Bright Eyes and he considers Oberst one of the finest songwriters today. And the night before we were just watching his performace and interview on the Coachella DVD. I tell Ryan that it looks like Conor, but I just don't know for sure. If I'd been wearing my thinking cap instead of little, black knit cap it might have occurred to me that Maria Taylor records on Oberst's Saddle Creek label and that he sings on her signature tune, "Song Beneath The Song." So, of course it'd be him. And when she kicks into that same tune, he jumps up on stage and jams with them, eradicating any doubt. Ryan is starstruck.
It's a great set, Maria's set. It's far louder and fuller and more completely cool than the last time I saw her with Lauren at the Troubador. It's a great clutch of tunes from her single album and a scattering of new tunes that she's written since then. "Xanax" still kicks ass and the final tune (the aforementioned "Song Beneath The Song" brings down the house.)
As it were.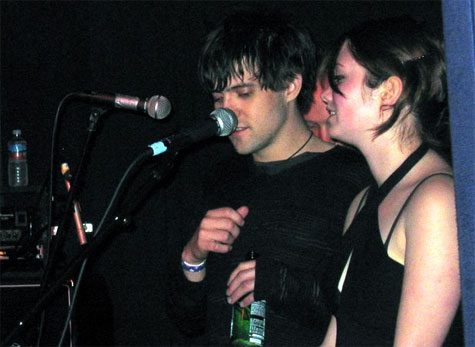 After the set, most of the crowd clears out (including Ryan.) Maryann, her roommate, Amanda, and her friend and I stay behind to watch the last act, Norfolk & Western, and now that the crush has eased, I notice that Taylor and Oberst are hanging out on the floor, chatting and enjoying the show. It's now my turn to be starstruck, but in spite of that, I walk up to them.
"Sorry to interrupt," I interrupt, "but I just want to tell you that I love your work. You put on an excellent show. And I think thblat flyou dsnoprt fladsky gleeb…" I might as well have said, "I'm just gonna babble incoherently for a few minutes and later you can sort through it and keep what you want. That cool?" She's gracious and kind and everything you'd want but not actually expect. Oberst is next to her acting like he's worried I'm about to shove a demo cd into his hand. Then I lie about having to get back to my friends and that they're probably about to call Search & Rescue by now and then I go back to the bar where Maryann and the others are hanging out.
By now, Amanda's boyfriend has joined us. Amanda's boyfriend is Scott Weiland. Yes, Scott Weiland of Stone Temple Pilots. He smells interesting, like leather and tonic. We shake hands and this is what's going through my head: "I just met Maria Taylor."
Didn't I tell you? I'm not one to get starstruck.

Norfolk & Western wraps up its set – a cool set of songs that has one member alternately playing instruments as diverse as an accordion, a banjo, a wood saw and, yes, a theremin. It's time to go. I say goodbye to Maryann and Amanda and Scott and then head for the door. and then there's Maria again, talking to someone else, so I stop and say, "Sorry to interrupt…"
The second convsersation goes much better than the first one.