SFX:
Way back in July, Craig over at Songs: Illinois posts a thing about Laura Veirs. I had heard the name before but never got around to checking out her music. Since then Ms. Veirs has rocketed to the upper stratosphere of my musical planet. So much so, that a couple months ago I'm on the verge of picking up a plane ticket to catch her and Sufjan Stevens on one of their joint East Coast dates a while back. But logistics and a crippling dearth of funds keep me home.
last week, she and her band finally make it back out to the West Coast. No Sufjan, but the chance to see her in a cool, intimate setting like Spaceland is too good to pass up. Here are a couple oversaturated, slightly blurry pics for your enjoyment. Her shirt reads, "Come on feel the Illinoise."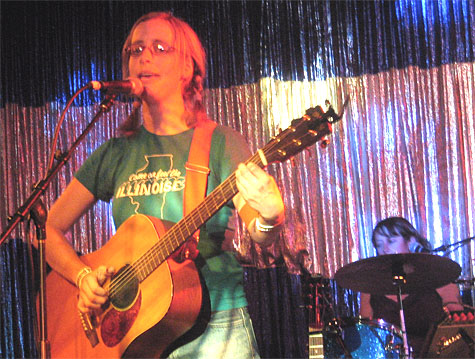 This last pic was snapped before the show as she's adjusting her mike stand.
The entire set is pulled from her last two albums (the recent Year of Meteors and the acclaimed Carbon Glacier.) See for yourself. I snagged her set list.