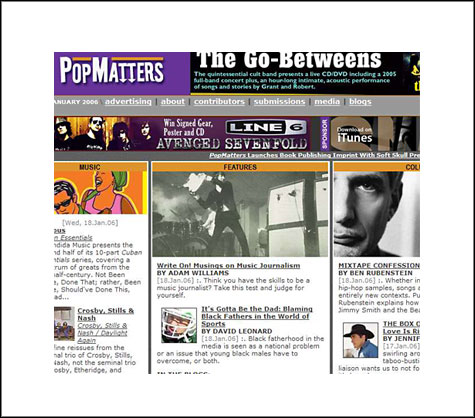 Hey, any of you who've been reading along as Michael Keefe's been reviewing tunes for this site might be interested in the most recent email I got from him. Michael sez:
I have been taken on as a CD reviewer for PopMatters, a daily arts/pop culture review site. It is one of the two CD review sites I read constantly, so I'm especially excited to be a part of something that I already loved.

Based in Chicago, they have a readership of 700,000 unique website hits per month and a staff (spread all across the country, maybe farther) of around 200. It is an amazing operation, and I'm very proud to be a part of it.

Thanks to all of you who have supported me in so many ways. Many of you
have specifically encouraged me to take my CD reviews to the next level, and
your nudges were a big inspiration.

To those who have rocked, I salute you!
That's very cool.
And since we're nowhere near the subject, did anyone catch that amazing story of Cy, the one-eyed kitten? Cute and horrifying at the same time. Poor Cy didn't last long, but he seems to have made an impression. Some had suspected fakery, but Cy was no hoax.
Poor Cy.