Just thought you all might be interested in a few random snapshots. I'm on my dinner break on Wednesday. It's rush hour. As always at this time of day there's a ton of activity in the neighborhood. So I wander around in the ninety-degree heat and click away.
This is looking down from the CNN parking lot up Cahuenga Blvd towards Hollywood Blvd and the 101. A near solid block of cars. And check out that stretch SUV turning onto Cahuenga.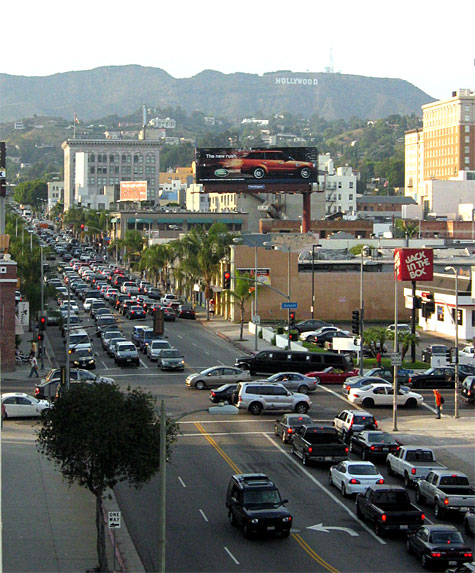 There is a huge premiere happening at the Arclight this evening. I've never seen so many lights ready for use. The red carpet is out. The generators are hooked up. The movie? Hustle & Flow. In order to get a good angle on the Dome I have to sneak up to the top level of the Los Angeles Film School parking lot (where, for lovers of insanely trivial movie facts, they filmed the "video within a movie" that Kevin Bacon shoots for Jennifer Jason Leigh in The Big Picture.)
Here's another shot of the red carpet and the battery of lights set up for the evening–as if they didn't have enough heat already. Special note: that 24-Hour Fitness you can see on the upper floors is where I work out. Just when I'd decided that the place, though nice, was too low rent for celebrity types (unlike the Gold's on Cole where I used to work out) I spot Jason Priestly goofing off pumping iron there with a friend on Saturday. And in a typical Hollywood development, the gym is closed to members from Monday through Wednesday. Seems they're shooting a film there. Sure enough, as I'm lifting heavy bits of steel there the other day, I see a typical cluster of film types walking around the gym floor, framing shots with their hands and taking notes on legal pads.
And of course, since I'm up there, might as well take a shot of the ol' workplace. I just passed my one-year anniversary. It hardly feels like it's been that long, but look. I have proof.