Bad blog! Speak up!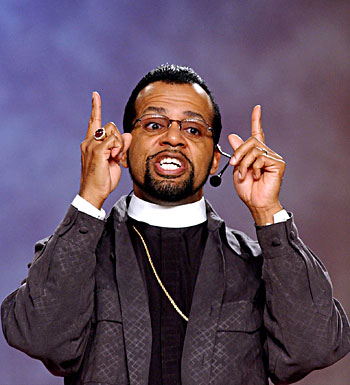 Okay, tonight I'm distracted by This American Life. They're replaying one of my favorite episodes. "Heretics" is a beautifully produced piece on Carlton Pearson. He's a pastor in Tulsa Oklahoma. he runs a church called Higher Dimensions. This installment of TAL describes his rise as an articulate, eloquent and intelligent preacher, who had a vast congregation and a safe, secure place in Heaven. Until, that is, he stopped believing in Hell.
Nothing packs believers into pews quite like the notion that there will someday come a day of judgment.
It's amazing to hear what happens when Pearson begins to preach that Hell doesn't exist. He's branded as a heretic, he's deserted by his pastors, his congregation, his mentors… Simply amazing. One of the best things I've heard on the radio. And of course, it comes from This American Life.
Link to the TAL page where you can stream it, podcast it or buy it.
Link to Pearson's New Dimensions church.
Link to articulate post at Ministry Today that likens Pearson to a fly that springs not from rotting meat, but from the maggot that feeds upon it:
If you intend to dismantle a cardinal doctrine built on two millennia of church history and Scriptural interpretation, you need more than a handful of witty one-liners. It's like trying to take down the Brooklyn Bridge with a butter knife.
I don't know. Just because it's old doesn't mean it's right. in fact, I think that I'm more likely to question it because it's old. but then I'm one of the secular skeptics Matt Green suggests are susceptible to Pearson's ideas…