Okay, so it's true. I'm another year older. My birthday has come and gone. It falls on a Saturday this year. This means I'm able to throw a party. I'd intended to go all out and throw a big bash. I decide, after all the computer nonsense of last week and the fact that I was very late in getting out invitations, that I would scale things back and make it simply a "gathering." It has a more dramatic sound to it. It feels more intimate. I invite only the people I really want to see. I mean, this is the reason I didn't quit Rocket Video outright back in March when it all went haywire. I wanted to stick around long enough to gather everyone over at my house for a…uh, a gathering.
Not everyone on my wish list comes. But everyone who comes is definitely on my wish list. Some people (Ryan, Jules, Kirk…) tell me later that there was much gnashing of teeth and rending of clothing over the fact they had to miss it.
And I'm not one for the showing off of gifts, but people bring me some interesting stuff this year. Check this out:
Strangest among them, therefore the most discussed, is this, which Jennie gives me. Do you know this woman?
Jennie discovers it in a thrift store. Apparently this woman is dead. Her belongings have ended up in a thrift shop. Jennie finds it to be such an odd, funny thing, that she buys it for me. I can't tell you how amused I am…
She also gives me what looks like a peculiar wine carafe. When Sara stops by the party later she immediately identifies it. "It's a wine bong!" says Sara, whose friend Ruth owns one and brings it out for special occasions. It's like a beer bong, but perhaps a bit more glassy.
Sara drops off a couple of really cool items for me when she stops in. The invader kit is my favorite. If you know us, then you know of our obsession with space invaders, and you'll understand how perfect this is. She also gives me two tiny objects, both of which I love: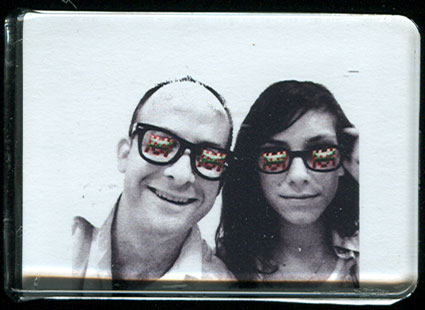 Yeah, of course that's us. And yeah, it's those damned space invaders on our eyes. And continuing in the hyper-hip artist vein, she also gives me this:
That's Robert Smith from the Cure, in case you were wondering. I would be remiss if I neglected to post a photo of these, which come by FedEx on Saturday morning:
They're from Parley. They're still going strong, two days later, although one of them has sagged, flaccid, and now points to the floor.
I don't let a birthday go by without picking up a little something for myself. This year it's a book from Wacko in Los Feliz (my fave LA store):
It's just a book on Francois Truffaut. I love this image. I've only seen about a third of Truffaut's films, including the Antoine Doinel cycle, which begins with 400 Blows and ends with Love On The Run. This next image is from the former. Just look at the expression on Jean-Pierre Leaud's face…