This has been a hell of a week. I haven't posted since I got back to Hollywoodland. This is because I work 56 hours in a five day period. Five days at Amoeba. Three days at Argentum. Things are pretty normal now. Here are some pictures to prove it (since I don't have the energy to write 4000 words.
First up: A customer asks Kirk in broken English for a movie. Kirk can't quite get a grasp on the title he's asking for. The man repeats himself several times to no avail, until Kirk asks him to write it down. . .
And still, it doesn't make any sense. Give it a try. What is this man looking for? (ignore the "50-foot Anniverary of Doo-Woop.")
Give up? Click here. Reminds of the days working as a Supervisor at Paseo Nuevo Cinemas in Santa Barbara ("One adult and one senior for The Legendary Ross?")
Here's something that I find intriguing. It's on the wall in the closet behind the Mezzanine Info Counter. I'd like to know what films were in this section: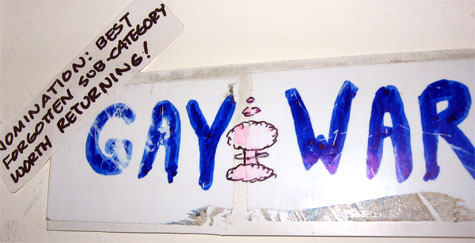 I love that the mushroom cloud is pink.
Tonight, Dave is writing a sign in his classic scrawl. Matt and I are distracting him, so the first draft of the sign reads "Unkeered."
Ha-ha-ha-ha-ha!
. . . Uh, I guess it might have been funnier had you been there.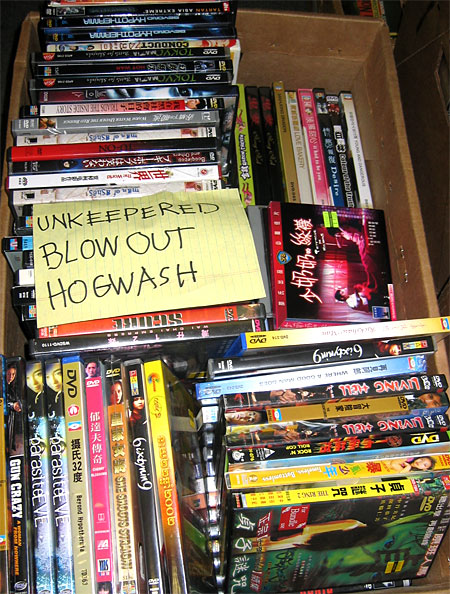 For the record, there's nothing funny about this. It's just a picture. And also for the record, "keepers" are what we call the plastic cases that hold the dvds and keep Paris Hilton from gaining access to them. We have verbified that noun and turned "keepering" into an activity. To "keeper" something is to put it in one of those cases. And these dvd's were recently featured in an Asian Cinema Blowout sale, which has just recently ended. So we had to "de-keeper" them. Now they are "un-keepered."
Got that?
"Hogwash" is just a curve ball Dave throws into his second draft since Matt and I are watching him so closely.
Finally, Eric Brightwell flashes the Mezz crew:
Yep, things are 'bout normal.